Baguette Rusticata
A premium quality, rustic stone baked ciabatta bread with a light, crisp golden crust, authentic floured appearance, and soft, open textured centre in a traditional baguette shape. The perfect premium ciabatta bread carrier or loaf for a café, coffee shop, restaurant, hotel or contract caterer.
Our frozen Ciabatta range bake off in as little as 6 – 12 minutes providing that amazing bakery aroma and freshly baked look and taste whilst managing stock and waste.
Combining over 150yrs of bakery experience with the most modern baking techniques.
Our ciabattas are premium quality and either stone baked or enriched with extra virgin olive oil for a superior texture and flavour.
All our breads are vegan and registered with The Vegan Society (except the Rusticata Dinner Roll Selection which is vegetarian).
The ideal premium quality ciabatta for bread rolls, bread carrier or meal accompaniment solution for a café, coffee shop, restaurant, hotel or for catering.
Ingredients
WHEAT Flour, Water, Durum WHEAT Semolina, WHEAT Sour Dough (Water, WHEAT flour, RYE flour), Extra Virgin Olive Oil, Baking Agent (Stabilizer (E 412), WHEAT Flour, Dextrose), Yeast, Salt, BARLEY Malt Extract. For allergens, including cereals containing gluten, see ingredients in CAPITALS. May also contain traces of milk, sesame seeds, soya and egg.
Allergen Information
Contains allergens:
Cereals containing gluten
Barley
Wheat
May contain traces of:
Eggs
Milk
Sesame seeds
Soybean
Storage & Handling
At -18°C or colder. Do not re-freeze after defrosting.
Bake for 12 minutes at 210°C. Recommended shelf life after baking is 18 hours.
| | |
| --- | --- |
| Country of Origin | Germany |
| Manufacturer | Germany |
| Shelf life (months) | 366 |
| UK Distrubution | 151117 |
Nutrition
| | Nutrition per 100 g |
| --- | --- |
| Energy, kJ | 279 kcal |
| Energy, kJ | 1180 kJ |
| Fat | 3.7 g |
| Fat of which is saturated acids | 0.65 g |
| Carbohydrate | 51.2 g |
| Carbohydrate of which sugar | 2.9 g |
| Fibre | 3.5 g |
| Protein | 10.1 g |
| Salt | 1.01 g |
| NutrientSodium | 396 mg |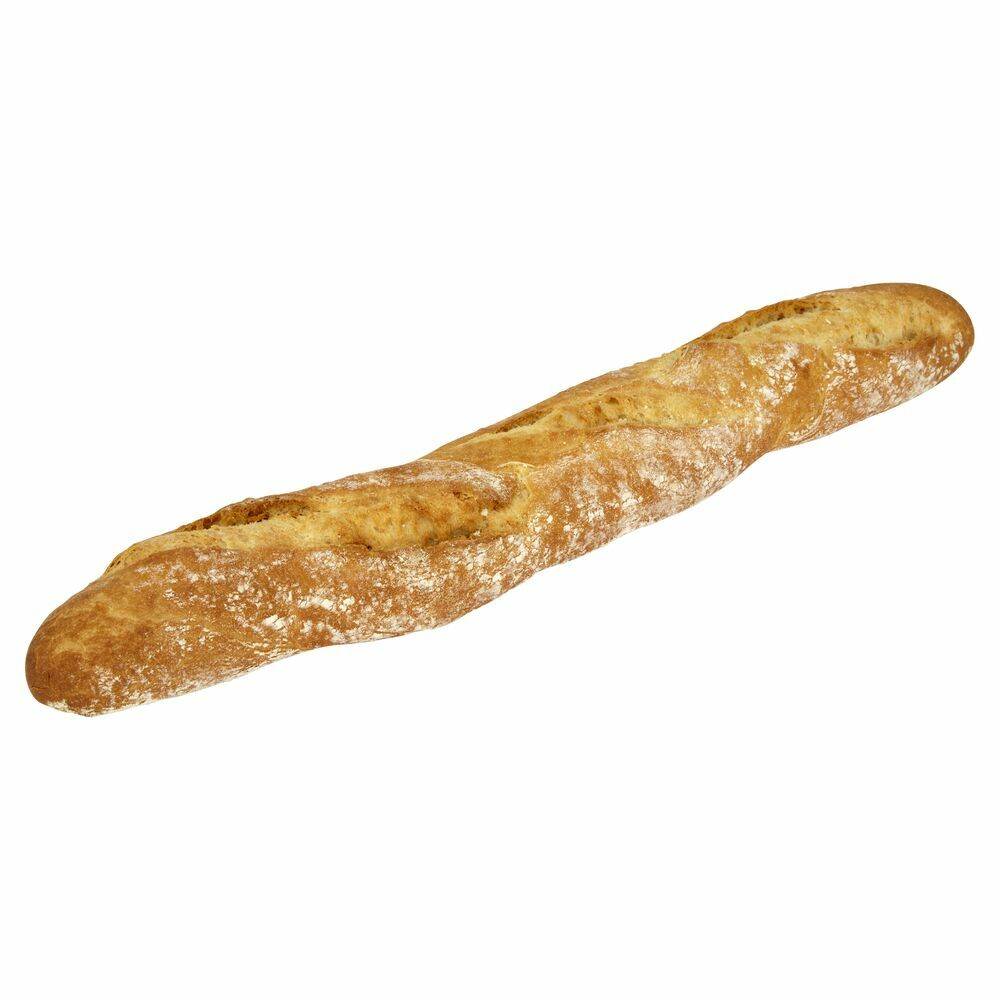 Ideal for
Breakfast
Lunch
Dinner
Snack